Profile
Shri P. Sreeramakrishnan had nearly two decades of experience in youth movements that enabled him to rise to the forefront in Kerala politics.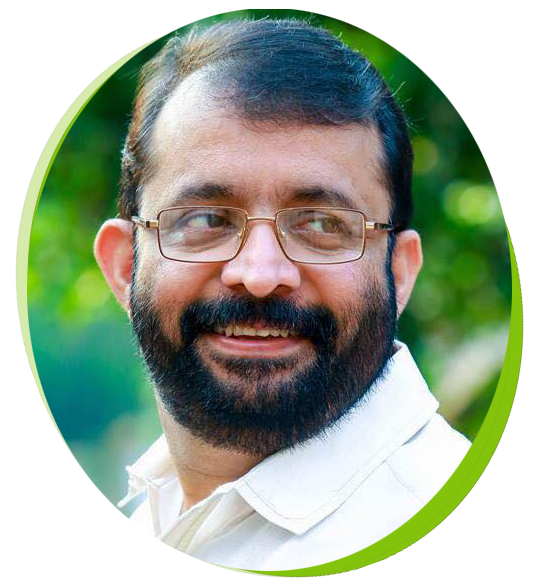 Shri P. Sreeramakrishnan contested the elections to the Kerala Legislative Assembly in 2006 from Nilambur Constituency. Later in 2011, contesting the elections from Ponnani Constituency he became a Member of the Thirteenth Kerala Legislative Assembly. Again in 2016, Shri P. Sreeramakrishnan won the election from Ponnani Constituency with a remarkable majority and was elected as the Speaker of the Fourteenth Kerala Legislative Assembly on June 3, 2016.
Shri P. Sreeramakrishnan completed his school education from Pattikkad G.L.P. School, Perinthalmanna G.H.S.S. and Pattikkad G.H.S.S. His political career began during his student life in Perinthalmanna G.H.S.S. when he became the Secretary of Deshabhimani Balasangham of Keezhattoor Panchayat in 1980. Later Shri P. Sreeramakrishnan became an active worker of SFI and DYFI. During 1983-88, while a student in the N.S.S. College, Ottapalam, Shri P. Sreeramakrishnan held the posts of SFI President, Palakkad District, Office bearer, Ottapalam N.S.S. College Union and Chairman, Calicut University Union, thus proving his skills as an efficient leader. Later he served as Senate Member and Syndicate Member of Calicut University while a student of the N.S.S. Training College, Ottapalam.
Shri P. Sreeramakrishnan showed his excellence in curricular as well as co-curricular activities. He was an active participant in the University Youth Festivals and secured prize for the best essay in South India in the Inter University Youth Festival held in 1988. Shri P. Sreeramakrishnan had also served as teacher in the Melattoor Ravivarma Mooppil Eradi Higher Secondary School. Shri P. Sreeramakrishnan has held various positions in DYFI from the root level to the level of national leadership. He was Block Secretary, Perinthalmanna; District Secretary, Malappuram; State President as well as State Secretary. He served as the Managing Editor of 'Yuvadhara' magazine and played a prominent role in making it more acceptable to the public. Shri P. Sreeramakrishnan was elected as the All India President of DYFI in 2007 in the national meeting held at Chennai and continued in the post till 2012. During that period, he was the leader of the World Federation of Democratic Youth(WFDY) in the Asia-Pacific region. He organised World Youth Conferences and Forums against imperialism. As part of World Youth movements, he visited Nepal, Srilanka, Laos, China, North Korea, Russia, Cuba, Venezuela, South Africa, U.K. and Kenya and also attended Youth Conferences in various foreign countries.
During 2006-11, while serving as Vice Chairman of Kerala State Youth Welfare Board, Shri P. Sreeramakrishnan initiated various notable projects. He was a member of the Government Committee that prepared the draft law for constitution of the Youth Commission. The State Youth Welfare Board advanced through a different effective path under his leadership.
Shri P. Sreeramakrishnan attended the Commonwealth Parliamentary Association Conference held at London in December 2016. He married Smt. M. Divya on 18-8-1996. They have a daughter Niranjana and a son Priyaranjan.
Languages known
Malayalam, English
Wife
Smt. M. Divya
Children
Niranjana (daughter) and Priyaranjan (son)
Travels Abroad
China, Russia, Cuba, Venezuela, USA, UAE, North Korea, Laos, Nepal, SriLanka and KSA
Hobby
Reading and Watching movies 
Recreation
Travelling
Literary Activities
Atmiyata Kalapamakumbol, Janadhipathyam Samskaram Samakaleena lokam, Navothanam Nava janadhipathyam Nava Keralam, etc.
Permanent Address
Niranjanam,
Pattambi Road,  
Perinthalmanna,
Malappuram
Residential  Address
'Neethi'
Legislature Complex
Vikas Bhavan PO
Thiruvananthapuram 695033
Phone numbers:
Direct : 0471 2305830, 2308890
Residence :  0493 3322816
EPABX : 3002, 3003, 3007, 3035
Mobile : 9447799330
---
Constituency
Ponnani Assembly Constituency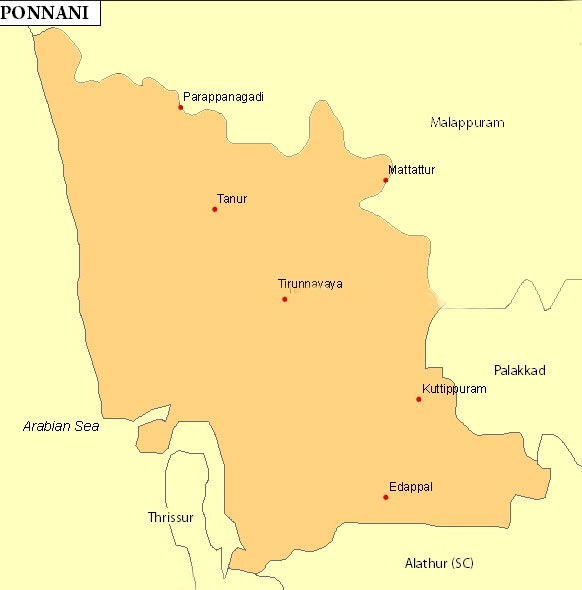 Ponnani is constituency No. 48 of Kerala legislative assembly. It is situated in Malappuram district and comes under Ponnani Lok Sabha constituency. It is an unreserved assembly seat.
According to the Election Commission of India, Ponnani has 1,58,680 registered voters. It comprises 74,353 male, and 84,327 female registered voters.
In the 2011 assembly elections, this assembly seat was won by the CPI(M).
P Sreeramakrishnan, defeated his nearest contender P T Ajay Mohan, the Indian National Congress candidate. The voter turnout was 76.36%.
---
Electoral History
Member, 13 th & 14 th KLA [Ponnani - CPI (M)]

1. Member, 14th KLA [Ponnani - CPI (M)]
     Electorate                                                     : 1,90,703
     Votes polled                                                 : 1,41,393
     Shri. P. Sreeramakrishnan (C.P.I.(M))   : 69,332
     Shri. P. T. Ajay Mohan (I.N.C.)                    : 53,692
     Shri. K. K. Surendran (B.J.P.)                      : 11,662

2. Member, 13th KLA [Ponnani - CPI (M)]
     Electorate                                                      : 1,58,680
     Votes polled                                                  : 1,21,158
     Shri. P. Sreeramakrishnan (C.P.I.(M))    : 57,615
     Shri. P. T. Ajay Mohan (I.N.C.)                     : 53,514
     Shri. V. T. Jayaprakash Master (B.J.P.)  : 5,680
Events